Americans have just endangered human civilization by electing TRUMP
On 8th November 2016, Donald J. Trump an American billionaire who boasts about evading taxes and accused of sexually assaulting women is elected as the forty fifth President of the United States of America, a country that has the most powerful military in the world.  Proving wrong to all pundits, Trump  was victorious on Tuesdays's election night that revealed deep anti-establishment anger among American voters and set the world on a journey into the political unknown.
The expected script of the U.S election to elect first woman in America to be the leader of the free world sketched through opinion polls, analysis, October surprises, media attacks, and accusations of espionage from both sides was only to be hit by the reality on the ballot box.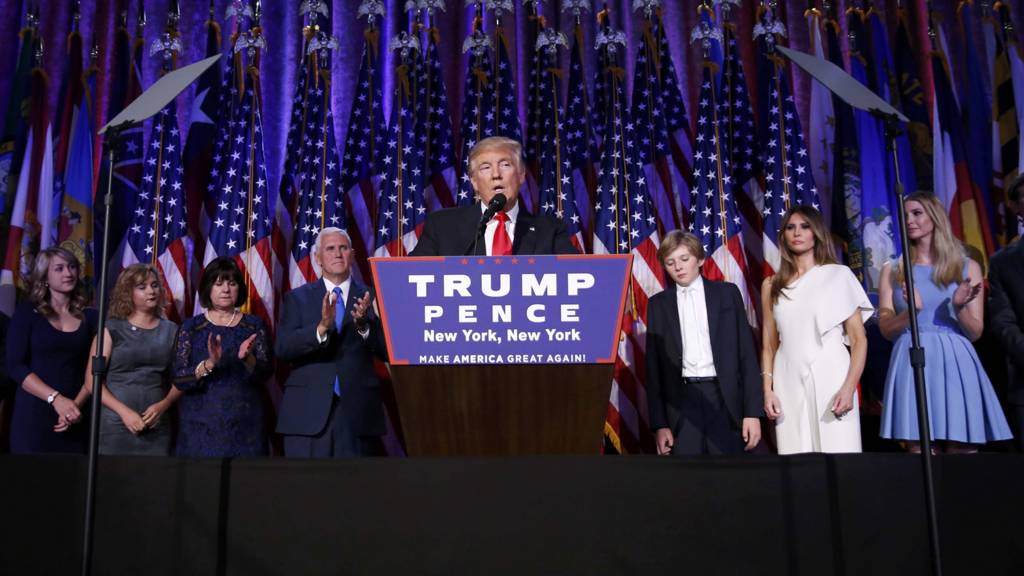 Election Results
As early victories in Florida, North Carolina and Ohio fell into Trumps corner, the race to white house was finished early as predicted, but for the different candidate as Rust Belt states of the industrial mid-west followed battlegrounds results and making a stunning political upset in U.S democracy.
At 2.30am, the Associated Press projected Trump had won Wisconsin and called the overall race for Trump, who passed the 270 electoral college votes he needed to secure the presidency.
Shortly afterwards, Clinton called Trump to concede but did not make a public address.
Trump left Trump Tower for the short journey to the Hilton Midtown, where the president-elect then took to the stage and insisted he would "deal fairly with everyone".
"I have just received a call from Secretary Clinton. She congratulated us – it's about us and our victory – and I congratulated her on a very hard fought campaign.
Markets Reactions
Investors reeled from the prospect of a victory that would reverberate around the world and futures markets pointed to a fall of nearly 600 points in the Dow Jones Industrial Average.
Mexico's currency weakened by more than 13 percent in after hours and Asian trading on Wednesday, breaking past 20 pesos per dollar, which would be its biggest fall since the 1994 Tequila Crisis.
WHAT Now?
Members of U.S civil societies are now preparing themselves to face their most worst nightmares on asking themselves so what should we (the Americans)  expect from President-elect Trump, mindful that his path to the White House has defied expectations at every turn?
Some of Trump's ambitions have been clearly telegraphed: He plans to build a wall along the U.S. border with Mexico, deport millions of criminal immigrants, unwind trade deals dating back more than two decades and repeal Obamacare. He has also promised to cut taxes and eliminate numerous government regulations — including power plant rules designed to combat global warming.
With the presidential pen and a friendly Republican Congress, Trump should have little trouble delivering on those promises.
"Trump operates very much from his gut," said David Cay Johnston, author of The Making of Donald Trump. "The guiding philosophy of Trump is whatever is in it for his interests at the moment."
Republicans Keep Control Of The Senate As Democrats Largely Falter
When his initial tax plan prompted sticker shock among fiscal watchdogs, Trump readily shaved trillions of dollars off the bottom line. (His new plan is still a budget buster, though.) His impulsive call to ban Muslim immigrants gradually morphed into a vague prescription for "extreme vetting." And he hastily concocted a plan to help working parents only after his daughter trumpeted a vaporware version at the GOP convention.
One of Trump's first tasks will be staffing up for a new administration. The celebrity businessman who turned "You're fired!" into a catchphrase will soon be doing a lot of hiring.
Trump, who prides himself on being a counter-puncher, can also be expected to use the levers of government to target his political rivals. He has already threatened on live television to appoint a special prosecutor to investigate Clinton.
"Trump's philosophy, which he's written and spoken about for many years, is to get revenge," David Cay Johnston, author of The Making of Donald Trump said.
Once Trump is in the White House, the news media will remain firmly focused on the new commander in chief.
"Donald is the most masterful manipulator of the conventions of journalism I've ever seen," said Johnston, a Pulitzer Prize-winning former reporter for The New York Times.
"I always say we have to be unpredictable," Trump told the Washington Post editorial board.
Everything for Trump is a negotiation. And much of his campaign was based on the idea that the U.S. has been getting a bad bargain.
"You look at what the world is doing to us at every level, whether it's militarily or in trade or so many other levels, the world is taking advantage of the United States," Trump told CNN. "And it's driving us into literally being a third-world nation."
Similarly, Trump argues that if the U.S. puts pressure on other countries — by imposing import tariffs or demanding payment for military protection — they'll quickly back down.
With Love from Russia 
Speaking in the Kremlin, the house of the President of the Federation of Russia – Putin congratulated Trump on his victory and said Russia was ready to work for better ties. "We understand that it will not be an easy path given the current state of degradation in the relations," he said.
In the backdrop of Syria conflict, cyber attacks, and relations with E.U, Putin adds that, "I have repeatedly said, it's not our fault that Russian-American relations are in such a poor state. But Russia wants and is ready to restore fully fledged relations with the United States."
Earlier, Putin became one of the first world leaders to congratulate Trump, sending him a telegram expressing hope for an era of positive ties. Many Russian politicians welcomed the news, both because Trump has spoken of his admiration for Putin and because he represents a blow against the US "establishment".
Muslims Reaction
Muslims across Asia were struggling this morning to accept the news the populist candidate will take office in the White House, saying that ISIS would be happy he won the presidency race.
Horror and fear swept through Muslim countries after Donald Trump was confirmed as President of the Unites States after months of anti-Islamic rhetoric
'Americans have just screwed the world yet again,' said Syed Tashfin Chowdhury, a Bangladeshi who has several close friends in the US.
Thousands in the country watched in shock as the results rolled in and Facebook lit up with horrified reactions.
'I'm very afraid, will there be more wars? Will America attack Muslim countries again?' asked Indonesian activist Alijah Diete as Donald Trump edged closer to a shocking victory in the US election.